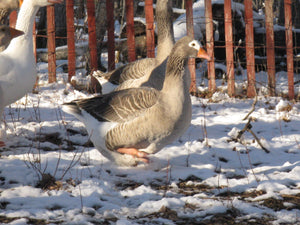 Pilgrim Goslings
Pre-order day old Pilgrim goslings. Pilgrim goslings are sold in sexed male/female pairs or as single males.
Minimum order number for goslings being shipped is 4, this number can be made by combining any breeds of goslings or ducklings.
Day olds will be available by pre-order. Pre-orders can be placed through the website, however hatch dates are no longer able to be preselected. Duckopolis will assign hatch dates to orders once the eggs for that hatch are in the incubator and Duckopolis is able to more accurately estimate the number of day olds that are expected to hatch. Pre-orders will be filled in as close to the order received as possible. Hatches will start in April, and Duckopolis will contact orders for each hatch date 3 weeks prior to the hatch to confirm the hatch date. Duckopolis reserves the right to fill orders in the order that we determine to best match the available eggs or shipping for any specific hatch. Select hatch dates will be reserved for Duckopolis to sell day olds at predetermined poultry sales.
Goslings ordered for pickup can be picked up the Thursday or Saturday after the hatch. We are not able to allow pickups on the actual hatch date. You will be emailed prior to the hatch to schedule a pickup appointment. An appointment must be made to pickup the goslings to ensure we will be available to help you.
---
We Also Recommend