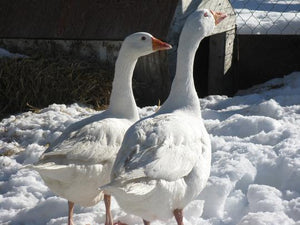 Slaughter Ready Goose- Medium
Order slaughter ready medium geese. When processed they should weigh approximately 13-17 lbs. Duckopolis is able to slaughter them on your behalf through our Alberta On Farm Slaughter Licence (Licence ID: 6627, Operator ID: 21808). The birds are sold live to the customer and slaughtered and processed on our farm in a humane and safe manner on the customers behalf. This is done as part of an uninspected operation as per section 11(d) of the Alberta Meat Inspection Regulation. The meat is considered uninspected and is for consumption by the customer and their immediate household only. The meat can not be sold or further distributed. Through this slaughter licence there is a per customer limit of 150 poultry per calender year.
If you wish to receive the bird live and do the slaughtering yourself on your own property, please make a note on the order, otherwise it will be assumed that you want Duckopolis to process the bird on your behalf.
Processed birds can be picked up from the farm or delivered to Edmonton on Thursdays. We are not able to ship them.
If this item is sold out and you wish to be notified when we have more available we have a "notify when available" option set up. By signing up for this you will receive an automated push notification when they are available again.
---
We Also Recommend